February 9, 2016
Author: Allison Morgan, Program Manager, Cleveland Humanities Collaborative
On Friday, February 5th, the Cleveland Humanities Collaborative partnered with the Cleveland Museum of Art and Tri-C's Voices from the Village to host the CMA's Mardi Gras-themed MIX: Mask. Every month the CMA's MIX features different art projects, demonstrations, and performances. Tri-C's Voices from the Village is a yearlong program that originated at Tri-C's Metropolitan Campus to explore various themes related to the human experience. This year's Voices theme, "Behind the Mask," was inspired by the Paul Laurence Dunbar poem "We Wear the Mask."
The CHC asked students from Tri-C and CWRU to come up with brief presentations inspired by a selection of artworks in the CMA's collection, which the students then presented during two tours at the MIX.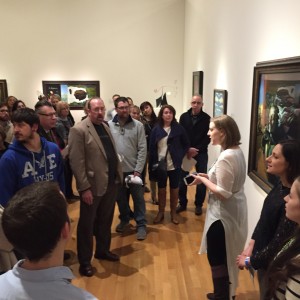 Our student participants went above and beyond! Amber Love (Tri-C) chose Salvador Dalí's The Dream, and read her own poem titled "My Rambling Soul." Gabrielle Sudik (Tri-C) entertained her audience with her lecture about the not-so-hidden symbolism in Constantin Brâncuși's Male Torso. Eva Barrett and Gabrielle Buffington (both CWRU) gave brief reflections about their personal reactions to Charles Sallée Jr.'s Bedtime before captivating the audience with dramatic readings of the poem that inspired the event, Dunbar's "We Wear the Mask." Over 100 people attended their presentations!
As part of our partnership with Voices, we were also able to provide MIX tickets to students at Tri-C and CWRU. Tri-C students were asked to answer trivia questions to win tickets, and CWRU students were asked to write haikus that dealt with the themes of masking or disguise. A sampling of some of the submissions we received are at the end of this post.
The CHC would like to thank all of the students who participated, the Voices from the Village planning committee, and everyone at the CMA for having us!
Haikus by CWRU Students
Altered face contours
Familiarity lost
Anonymous friend
– Anonymous
Screaming in silence,
with glaring obviousness,
your masks hide nothing.
– Monica Chavan
Painted harlequin
Hides behind elusive grins
But their sadness grows
– Austin Fainsod
Unmasked glance alarms
The raven inside the eyes
And truth flies afar
– Catherine Chervenak
Great celebration –
Peering out of wooden face
Hidden yet exposed
– Peter Fedrizzi
Cower behind me
Sheltered by my guise, breathe in
Newfound freedom waits!
– Nurahn Abouzahra
All smiling faces,
Are sad faces in disguise,
Hiding underneath
– Siddharth Hariharan
The Mask is smiling
Under, I am smiling too
Sometimes life's just fun
– Tyler McConnell
Purple, Green and Gold
Put on your colorful mask.
Enjoy the moment!
– Anonymous