---
Voices from the Village: A Year in Review
May 4, 2016
Author: Voices from the Village Planning Committee
On Thursday, April 14th, Cuyahoga Community College hosted a capstone reception encouraging attendees to reflect on the past year's Voices from the Village events. Voices from the Village (Voices) is an interdisciplinary, grass roots, faculty-driven program exploring various themes related to the human experience. The 2015-2018 theme for Voices is "Behind the Mask," drawing on the poet Paul Laurence Dunbar's poem "We Wear the Mask." Throughout these three academic years, faculty and students from CWRU and Tri-C will explore the power of a "mask," investigating various ways one can conceal one's identity or feelings behind a mask.
In addition to discussing the 2015-2016 Voices activities at April's capstone, attendees were also able to create their own masks and view a presentation with photos from each event. The presentation has been uploaded below:
The Voices from the Village planning committee would like to thank Cuyahoga Community College, Case Western Reserve University, the Cleveland Humanities Collaborative, and the Andrew W. Mellon Foundation for their generous support.
Planning for 2016-2017 Voices activities has already begun, and faculty members from both Tri-C and CWRU are encouraged to read through our Call for Participation and submit proposals for events, speakers, or activities that address the "Behind the Mask" theme. Funding is available! The deadline for submitting a proposal for AY 2016-17 funding is June 17, 2016. Proposals can be emailed to Dr. Jocelyn Ladner-Mathis (Jocelyn.Ladner-Mathis@tri-c.edu), Associate Dean, Liberal Arts, Metro Campus.
---
The Art of the Mask at the Cleveland Museum of Art's MIX
February 9, 2016
Author: Allison Morgan, Program Manager, Cleveland Humanities Collaborative
On Friday, February 5th, the Cleveland Humanities Collaborative partnered with the Cleveland Museum of Art and Tri-C's Voices from the Village to host the CMA's Mardi Gras-themed MIX: Mask. Every month the CMA's MIX features different art projects, demonstrations, and performances. Tri-C's Voices from the Village is a yearlong program that originated at Tri-C's Metropolitan Campus to explore various themes related to the human experience. This year's Voices theme, "Behind the Mask," was inspired by the Paul Laurence Dunbar poem "We Wear the Mask."
The CHC asked students from Tri-C and CWRU to come up with brief presentations inspired by a selection of artworks in the CMA's collection, which the students then presented during two tours at the MIX.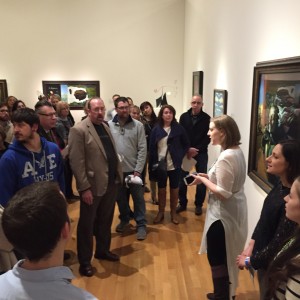 Our student participants went above and beyond! Amber Love (Tri-C) chose Salvador Dalí's The Dream, and read her own poem titled "My Rambling Soul." Gabrielle Sudik (Tri-C) entertained her audience with her lecture about the not-so-hidden symbolism in Constantin Brâncuși's Male Torso. Eva Barrett and Gabrielle Buffington (both CWRU) gave brief reflections about their personal reactions to Charles Sallée Jr.'s Bedtime before captivating the audience with dramatic readings of the poem that inspired the event, Dunbar's "We Wear the Mask." Over 100 people attended their presentations!
As part of our partnership with Voices, we were also able to provide MIX tickets to students at Tri-C and CWRU. Tri-C students were asked to answer trivia questions to win tickets, and CWRU students were asked to write haikus that dealt with the themes of masking or disguise. A sampling of some of the submissions we received are at the end of this post.
The CHC would like to thank all of the students who participated, the Voices from the Village planning committee, and everyone at the CMA for having us!
Haikus by CWRU Students
Altered face contours
Familiarity lost
Anonymous friend
– Anonymous
Screaming in silence,
with glaring obviousness,
your masks hide nothing.
– Monica Chavan
Painted harlequin
Hides behind elusive grins
But their sadness grows
– Austin Fainsod
Unmasked glance alarms
The raven inside the eyes
And truth flies afar
– Catherine Chervenak
Great celebration –
Peering out of wooden face
Hidden yet exposed
– Peter Fedrizzi
Cower behind me
Sheltered by my guise, breathe in
Newfound freedom waits!
– Nurahn Abouzahra
All smiling faces,
Are sad faces in disguise,
Hiding underneath
– Siddharth Hariharan
The Mask is smiling
Under, I am smiling too
Sometimes life's just fun
– Tyler McConnell
Purple, Green and Gold
Put on your colorful mask.
Enjoy the moment!
– Anonymous
---
Martin Luther King, Cleveland, and the Anisfield-Wolf Book awards
December 1, 2015
Author: Lisa Nielson, Anisfield-Wolf SAGES Fellow and Full-Time Lecturer, Case Western Reserve University
When I tell people how much I love Cleveland, they are surprised. Cleveland is the butt of jokes about everything from the weather (admittedly exciting) to the industrial wastelands of the Rust Belt (still smoking). Yet, I love Cleveland and love it more every day. How can you not love a city that despite being savaged by the last recession has a world-class food and music culture? A major art museum that is still completely free? Where you can get a t-shirt that says "Cleveland is my Paris"? A city whose history as a nexus for immigrants from around the world enabled her to become a leader in social justice?
Two important advocates for social justice have essential ties to Cleveland; one of which has international fame, the other virtually unknown. They are Dr. Martin Luther King, Jr. (1929-1968) and Edith Anisfield Wolf (1889-1963). Their relationship with the city of Cleveland and shared hope for the power of education, books and dialogue to change minds are the inspiration for the 2016 Martin Luther King, Jr. essay contest.
In 1935, Cleveland philanthropist Edith Anisfield Wolf founded what she initially called the John Anisfield Book Award to honor books that deepened our understanding of racism, and enhanced our appreciation of the rich diversity of human cultures. Following the 1944 death of her husband, Eugene Wolf, Edith changed the name of the prize to the Anisfield-Wolf Book Award. Now celebrating 80 years, the Anisfield-Wolf Book Awards have consistently showcased some of the best scholarship and literature on race and diversity. Recipients include Langston Hughes, Zora Neale Hurston, and Nobel Laureates Toni Morrison, Nadine Gordimer, Derek Walcott, and Wole Soyinka.1
Dr. Martin Luther King, Jr. was recognized by the Anisfield-Wolf book awards in 1959 for Stride Toward Freedom: The Montgomery Story, years before he became a national figure. In his review of King's book for the Saturday Review, jury chair Ashley Montagu said, "This book, written so beautifully and in such a quiet voice, tells an inspiring story of the victory of integrity over bigotry."2 Dr. King visited Cleveland several times between 1956 and 1967, speaking in churches, high schools and even street corners. In 1967, Dr. King came to Cleveland to support the mayoral run of Carl Stokes, whose subsequent win made him the first black mayor of a major US city. King visited Cleveland several times in 1967 and a selection from his recently rediscovered speech at Glenville High School, April, 1967 is among the prompts for the MLK essay contest.
Today, the Anisfield-Wolf book awards are administered by the Cleveland Foundation and the selection jury is chaired by Dr. Henry Louis Gates, Jr. He is joined by four internationally recognized writers: poet Rita Dove, novelist Joyce Carol Oates, psychologist Steven Pinker, and historian Simon Schama. Every September, the free award ceremony attracts a diverse crowd of nearly 1,000 people. Winners read from their work and engage the wider Cleveland community with lectures, speaking in libraries and museums, and talking with high school and college students.
The legacy of Edith Anisfield Wolf, Dr. Martin Luther King, Jr., and 80 years of thought-provoking books represent a conversation with our uncomfortable past. Their commitment to social justice, love of the humanities, and faith in a diverse, troubled, fabulous immigrant city continue to give us tools to confront our past and move towards a better future.
1 Wole Soyinka was recognized twice: first in 1983, when he won for his memoir Ake, and then in 2013, when he received the Lifetime Achievement Award
2 Ashley Montagu, "The Saturday Review – Anisfield Wolf Book Awards," Saturday Review, May 30, 1959: 13
---
The Soul of Cleveland
September 21, 2015
Author: Allison Morgan, Program Manager, Cleveland Humanities Collaborative
On Monday, September 21st, nearly 100 people gathered at The Happy Dog at 5801 Detroit Avenue to listen to stories about Cleveland's soul.
"The Soul of Cleveland" project was born from discussions of a group including local business owners, educators, architects, arts advocates, artists, and writers. They met from January to June to discuss how they felt about Cleveland, to talk about what made up the soul of the city and inspired its citizens to hope and spurred them to community action. They sent out surveys, asking residents about their favorite spots in the city, their favorite Cleveland memories, Cleveland's best kept secrets, and more. By last night they'd had over 50 responses and many attendees were eagerly filling out even more.
Nina and Jim Gibans, the project's progenitors, had originally planned to discuss the survey's results at their home. They soon realized that they needed a bigger space to accommodate the many people who were interested in participating, and ended up landing at The Happy Dog in Cleveland's Gordon Square neighborhood, which featured prominently in locals' survey answers as a "favorite Cleveland neighborhood."
The event was initially MC'd by Peter Knox, the Director of CWRU's Baker-Nord Center for the Humanities and a member of the CHC's Planning and Oversight Committee. Dr. Knox explained that while he moved to Cleveland recently, it was a deliberate and enthusiastic decision because he felt that Cleveland was a "city not just with a soul, but with a beating heart."
Nina Freedlander Gibans, the founder of the Cleveland Area Arts Council and a recipient of the Cleveland Arts Prize Martha Joseph Citation, introduced the project and gave a brief explanation of the night's format. David Hassler, the Director of the Wick Poetry Center at Kent State University, formally opened the evening by reading Maple Heights native Mary Oliver's "Wild Geese" to a rapt crowd:
WILD GEESE
by Mary Oliver
You do not have to be good.
You do not have to walk on your knees
For a hundred miles through the desert, repenting.
You only have to let the soft animal of your body
love what it loves.
Tell me about your despair, yours, and I will tell you mine.
Meanwhile the world goes on.
Meanwhile the sun and the clear pebbles of the rain
are moving across the landscapes,
over the prairies and the deep trees,
the mountains and the rivers.
Meanwhile the wild geese, high in the clean blue air,
are heading home again.
Whoever you are, no matter how lonely,
the world offers itself to your imagination,
calls to you like the wild geese, harsh and exciting —
over and over announcing your place
in the family of things.
Over the next few hours, many residents got up on stage to share their own stories and memories of Cleveland. Sabine Kretzschmar, the owner of Breadsmith bakery in Lakewood and a graduate of CWRU's Art History MA program, spoke of the many layers of history in the Shaker Village Historic District. Victoria Mills, the Executive Director of the Doan Brook Watershed Partnership, reminisced about the 1960s when citizens opposed and defeated the Clark and Lee Freeways extension plan that would have connected the 490 and 271 highways, but would have destroyed Doan Brook and the Shaker Lakes in the process. Joe Cimperman, Cleveland's Ward 3 Councilman, took the stage to fondly remember Daniel Thompson, for whom "Daniel's Way" (West 2nd Street) is named. Thompson was a civil rights activist and poet who spent his life advocating for the homeless.
David Giffels, author and recipient of the Cleveland Arts Prize for literature, read an excerpt from his recent book The Hard Way on Purpose regaling the amused crowd with the story of his first Cleveland Browns game and how, while huddled with his family and the tens of thousands of other fans, he wasn't quite warm in the -36 degree wind chill but instead he felt "something oddly similar to warmth: a shared coldness." Later, Evelyn Kiefer-Roulet discussed artist Ed Mieczkowski's life and work in Cleveland and his studio, dubbed his "Idea Garage," located on Euclid next to Lakeview Cemetery. Jim Gibans and Jennifer Coleman discussed Cleveland's architecture, and the historical and architectural significance of The Cleveland Arcade.
These are just some of the passionate presenters who spoke last night, and the event was clearly a huge success. The word is out, and it only seems appropriate that the Soul of Cleveland project seems to have taken on a life of its own.
---
Greetings!
September 1, 2015
Author: Molly Berger, Director, Cleveland Humanities Collaborative
I have been privileged over the last year to be involved in creating and now directing the Cleveland Humanities Collaborative.  One of the things that has been most gratifying is being surrounded by and engaged in profoundly interesting conversations with people who love, appreciate, and advocate enthusiastically for humanistic study.  I am a historian by training.  My field is the nineteenth-century cultural history of American technology – a mouthful to be sure.  But, I am fascinated by the transformation the country underwent over that century and how the introduction of both large-scale technological systems and small widespread inventions changed American lives both for better and worse. Time and again my understanding of that distant time has helped me think about our current issues with technology and how we continually face new questions about the value and challenges of new systems and things.
While I love being a historian – and in fact, I love when people ask me what I do and I get to say "I'm a historian" – I spend most of my time working as Associate Dean in the College of Arts and Sciences.  Being an administrator at a research university is not something I ever imagined I would be doing.  And that's the point I'd like to make. One of the things we like to say (we being the great folks I work with on this project) is that a career in the humanities prepares you to do just about anything. Did I ever imagine that I would have the job I have now?  I hardly knew what a dean was and had absolutely no idea what one did.  My first assignment when I began work in the dean's office was to "do something" with the university's summer academic session.  Taking summer courses was the only experience I brought with me, but the skills I learned in research, writing, organization, and analysis prepared me to think about the problem and find ways to solve it.  Of all things, studying the humanities teaches you how to learn, think, and bring a healthy sense of inquiry to the world around you.
Please join us at events, in advocating for the humanities, in learning new things as we recruit Tri-C's talented students to study the humanities at Case Western Reserve University.  Our faculty and students are enthusiastic about what they do and we are looking forward to welcoming Tri-C graduates into our community.   If you'd like to share your story, please email me or our program manager, Allison Morgan.  We'd love to hear how your background in the humanities brought you to where you are today and how you can be a role model for students studying the things they love!
Molly Berger, Director, Cleveland Humanities Collaborative
Associate Dean, College of Arts and Sciences
Case Western Reserve University